Welcome to the next stop of the Mscraps Birthday Blog/FB hop!
Happy iDSD everyone!! It's really exiting that finally the day we've been waiting for is here. Even Digital Scrapbook Day officially on the first Saturday of November, it always fun to start earlier over digiland. In this big celebration day, Mscraps already prepare for a special things  for you – a collaborative project I Love Craft  by most of all Mscraps Designers and Creative Team, that you can grab for free  by following the train in the Blog/FB Hop. We are also having a 30% off storewide sale!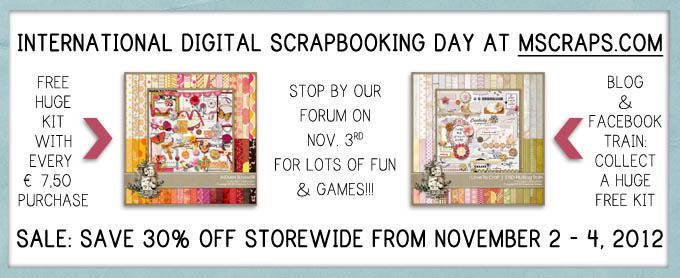 I LOVE CRAFT
Yes, I did, that's why I love digiscrapin' so much. It always fun to combine craft and memory keeping of our everyday memories. I also love to create card for wedding or birthday. Craft is important part of my life now.
Back to the blog/fb hop, you should have come here from Mary's blog. If you get lost or missed a blog stop along the way visit the mscraps forum to get the full blogtrain list.Below are the preview of the wonderful collab.
And here is a small part from me for everyone who love craft too
I AM ON CLOUD NINE!
I am. It really make my day by starting all of fun things in this iDSD. Are you exited too? To make it more complete, I release a special offer in this wonderful celebration day, ON CLOUD NINE Grab Bag. This stuff will available as Grabbag for a limited time only, so don't missed to get this in a really sweet deal €3.90 ($5) for product worth €15.99.
Last but not least, don't forget to join my Facebook Fanpage to stay uptodate and hey!! Pssst, just tell anybody because I'll give a special gift for my fan only tomorrow morning my time.
OK, time for continue the journey, the next stop is fabulous  ninigoesdigi (Nini) facebook page.
hugs,
Meta Wulandari